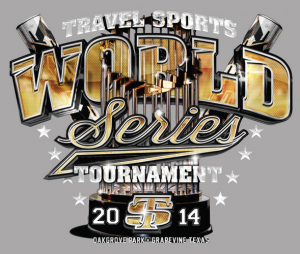 The 10U Dallas Tigers continued playing great baseball in June.  In the 5 day Travel Sports World Series with 37 10U teams from around the country and one international team the Tigers emerged #1.  The team only allowed 9 runs in 8 games.  Even with the outstanding pitching performances all week, the team also scored 48 runs in pool play and 40 runs in bracket play for a total of 88 runs scored in 8 games.  The team went 8-0 and knocked out the Dallas Patriots and Dallas Texans in bracket play.
Also, as part of the Travel Sports World Series tradition, the championship team gets to dig up and take homeplate as a gift from the tournament.  Check out the team autographed home plate photo below.
Thank you to Travel Sports Baseball and Don Myers for a great tournament.