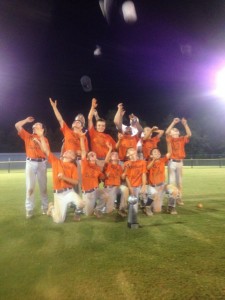 The 10U Dallas Tigers coached by Chad Polk and Brett Bergman, continued their winning ways this past week at the USSSA Global World Series in Gulf Shores, Alabama.  With 2 one run wins in bracket play against Team Mizuno and East Cobb Mets, the 10U Dallas Tigers emerged as champs.
In the championship game, there were 6 lead changes in the back-and-forth affair.  In the bottom of the last inning the Tigers were down by 1 run and were able to tie it up to send the game into extra innings.  With an international tie breaker in the top of the 7th inning, the East Cobb Mets scored 1 run to take the lead.  In the bottom half of the extra inning, the Dallas Tigers answered back with a 2 out RBI base hit by Ryan Radtke and hustle got him to second base.  Ultimately with an 0-1 count, 2 outs, and runner at second base, Jonah McCormack doubled to right center for the game winning hit and RBI.
"This game may be one of the most dramatic games I've been a part of with all the lead changes," commented Chad Polk, 10U coach.  "This group of boys have demonstrated this type of grit and determination all year.  For this "team personality" to come into play in our season finale was just remarkable to be a part of and experience.  What this group of boys experienced this week was off the chart.  Very proud of them all.  When playing at this level, it is very hard to win the last game of the season and they did it."
The 2014 Dallas Tigers had an incredible run winning 3 major tournaments to finish the season with USSSA State Championship, Travel Sports World Series, and USSSA Global World Series.  In that span, they won 27 of 28 games which including a 21 game winning streak to end the season!
In the USSSA Global World Series they lead the entire tournament with Best Scoring : 10.5/game and Best Run Differential: 7.125/game.
Congratulations boys and parents on an incredible season!