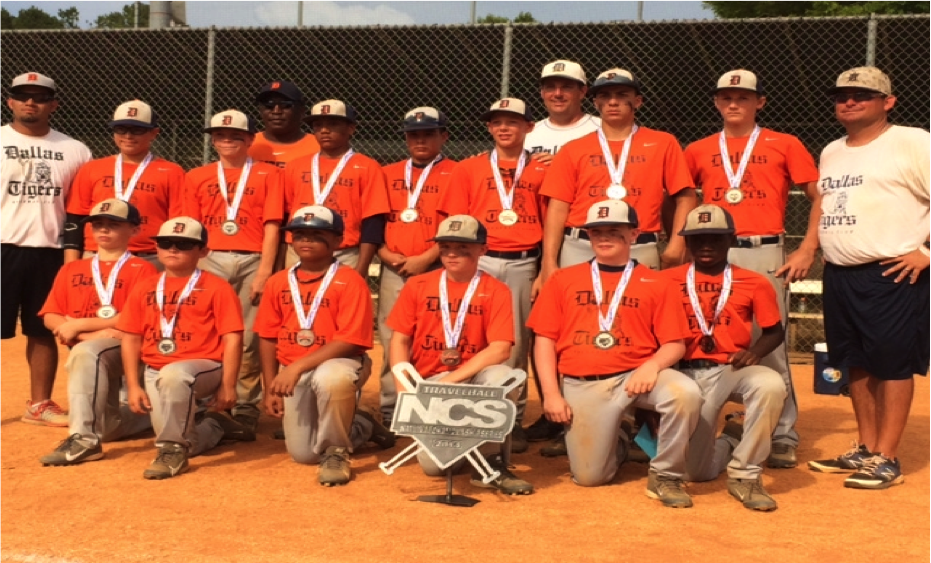 The 11u Dallas Tigers Autrey traveled to Atlanta, GA last week to compete in the Travel Ball Select National Championship Series. 30 of the best 11u teams in the country all ranked in various polls playing at the prestigious East Cobb complex made for a great tournament.
The Tigers kicked off pool play with 14-2 win vs. West Florida Thunder (FL) and finished day 1 with a 7-1 win over Titan Baseball Club (GA). On day 2 the Tigers went 1 – 1 – a big 13-2 win vs. Alabama Elite (AL) followed by a tough 3-2 loss to the Dulins Dodgers (TN). The Tigers finished pool play 3-1 and would be the #7 seed heading into the double elimination championship bracket.
The Tigers would head into bracket play focused and determined to make it thru bracket play without a trip to the loser's bracket. An 8-3 win over Team Halo (GA) got things started. They would battle the SBA Canes (NC) for a 5-4 win and a 7-3 win over Cory Lidle Baseball would put the Tigers in semi-finals against Spartans Pro (FL).
Arguably one of the best games of the tournament. After going down by 4 runs the Tigers battled back to score 4 to tie the game. A walk off bases loaded single would give the Tigers a 5-4 victory and a spot in the TBS National Championship.
The championship game, which was streamed on Travelballselect.com, saw the Tigers matched up against the Lamorinda Knights (CA). The Tigers were undefeated navigating thru the winner's bracket. While the Knights had battled back from the losers bracket after a second round loss. The game would see five lead changes. The Tigers would give a great effort but would fall short 6-2 in six innings at the East Cobb Complex.
"I am very proud of how all the boys played against the best teams in the country. Everyone should be proud themselves. We represented their families and the Dallas Tigers Organization well. Thank you to all the parents for your support" Coach Heath Autrey commented.
Next up for the Tigers is the 11u USSSA Wilson DeMarini Elite World Series in Orlando, FL. Best of luck in the upcoming tournament boys!