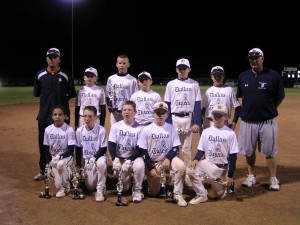 In what turned out to be a rematch of the Shreveport Super NIT Championship between the Tigers and the Oklahoma Rays, the tables were turn as the Tigers came up short this time against the Rays 7-4 to come home with a very respectable 2nd place finish.  In what has become one of, if not, the largest regional tournament of the season the Dallas Tigers took it to the finals.
With a field of 48 teams the Tigers managed to earn a top 16 seed winning their three game pool heading into the Championship bracket on Sunday. After starting off sluggish in the pool with a 5-5 tie against a respectable Tulsa Cardinals team, the Tigers took care of business running off five wins to get to the rematch game against the Rays in the championship. Hitting was lead by the hot bat and fast feet of Ty Manning who clubbed three homeruns, two of which were grand slams. He earned them the hard way as all three were in the park round trippers. Manning went 7 for 13 and accounted for 13 RBI's to lead the Tigers.  The offense continued to roll outscoring their opponents 74-28 in the seven games.
While the Tigers pitching seemed to waver at times it was once again a complete team effort that managed to guide them through a full weekend schedule. Jared Martin and Jake Whitbeck had strong complete game performances on the mound.
Congratulations to the Tigers for battling back through a full seven game weekend of play in another competitive tournament.