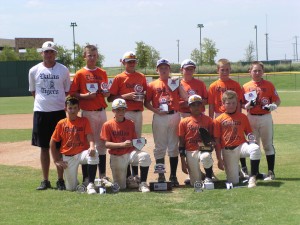 The Tigers-Ingram finished Runner-up last week in the Super Series Super16 National Championships hosted at Craig Ranch in McKinney. After 10 games and an 8-2 record in the 100 degree+ Texas sun the Tigers had a lot to be proud of with their finish. They had to battle back up the losers bracket after a second bracket game loss to the McKinney Marshals only to meet them four games later. After taking the first rematch game 7-3, the heat and schedule were just too much to overcome with the Marshals winning the deciding championship tilt.
Tigers selected to the All – Tournament Team were William Adair (16 for 27 with 7 RBI's to lead team hitting), Jared Martin (12 for 27 with 7 RBI's), Ty Manning (hit .400 for the tournament with 8 RBI's, a homerun, and stellar defense), Syler Shepherd (hit .433 with 11 RBI's and earned a win on the mound), Hayden Houser (solid defense and went 6 for 13 in the last 5 games), and Cole Solomon (hit .400 with three triples, threw 5 1/3 innings of a no hitter in bracket play and earned a save in another). Defensive MVP was Ty Manning for his spectacular "Sportscenter" plays in centerfield during the week.
Congratulations Tigers on a hard fought Runner-up finish!!