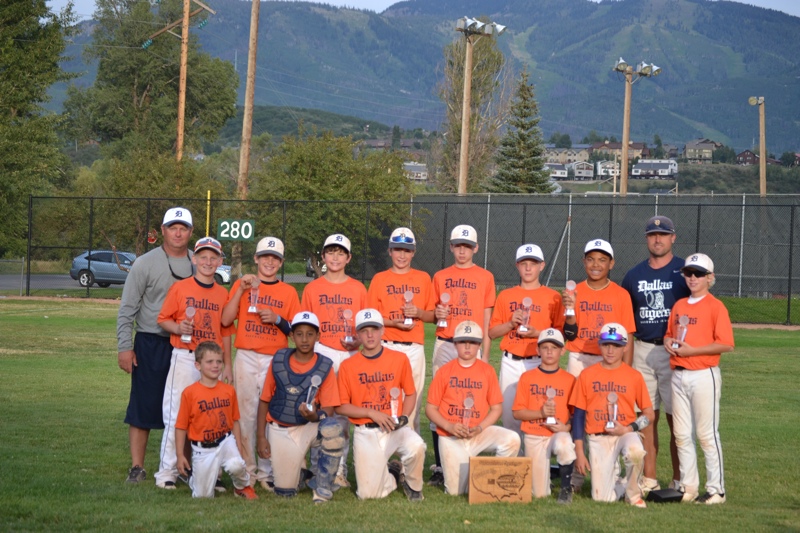 The 11U Dallas Tigers had an incredible week as a team at the Triple Crown Sports World Series in Steamboat Springs, Colorado.  There were 50 select baseball teams from all over the country in the 11U age group.  Overall, the team went 7-0 to reach the championship.  Most notable though were the 3 come from behind victories!  In game 1 pool play against Pico Elite out of San Diego, California, the Tigers overcame a 2-1 deficit to win 9-2.  Then in bracket play they squared up against the California Force and found themselves down 6-2 after 3 innings.  The Tigers mounted a comeback to take home the critical win at 9-8.  Later in the tournament they squared up against a well know rival Team Mizuno from Houston, TX.  The game was back and forth but then the Tigers found themselves down 6-2 headed into the bottom of the 4th inning.  Timely hitting and late game clutch pitching put the team in postion to take home the 7-6 victory.
The Tigers faced off against another in-state rival in the championship game, Banditos out of Houston, TX.  After 6 full innings of play the Banditos and Tigers were tied at 6-6.  The Tigers ended up giving up the winning run in the bottom of the 7th to the Banditos.
Coach Polk had this to say, "This group of young men showed a lot this week in Steamboat.  I saw competitiveness, comradery, and a toughness that to this point I had only seen flashes of this season.  This week though, these boys were all in every pitch of every game."
"To see an 11U team come from behind in 3 games against very good teams, and in other games put teams away with late inning runs; everyone has to be impressed.  Most importantly though this group of boys took a big step forward this week.  After having a great showing at East Cobb in Atlanta and now coming within 1 run of a national championship in Steamboat, these boys now know they can compete with anyone in the country," added coach Polk.
Thank you to Triple Crown Sports and their staff for hosting such a great event!
This Dallas Tiger team now has their sites set on Cooperstown, NY.  They'll be traveling to play at Cooperstown Dreams Park in 2013 as 12-year-olds.