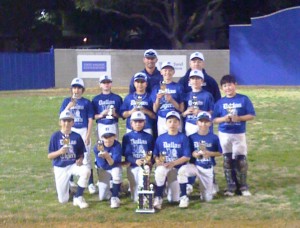 Our Tiger Family member, 11U coached by Ernie Cecil, made it to the finals in the Heroes Tournament  battling back from a 2 run deficit in the last inning to 6-3 . Ronnie Taylor pitched the entire game before coming out tired in the last inning with two runners on and no outs.  Top defensive play kept the Tigers in the game and held the opponent to 3 runs through 6 innings.  Stefanek came in, walked his first batter to load the bases, and next fought back to get two outs.  Next batter – with two outs and two strikes – for the Waxahachie Marlins hit a walk-off Grand Slam to win the game.  Final score 7-6 Marlins.
Coach Cecil commented, "This prooved to be a good start to what looks to be a very good year."
As painful as that has to be, the Dallas Tigers still played well and took second in their first complete tournament of the season. Congratulate them on their 2nd place finish the next time you see them.