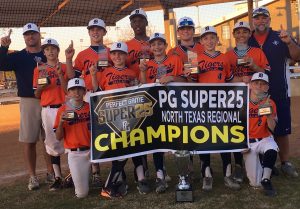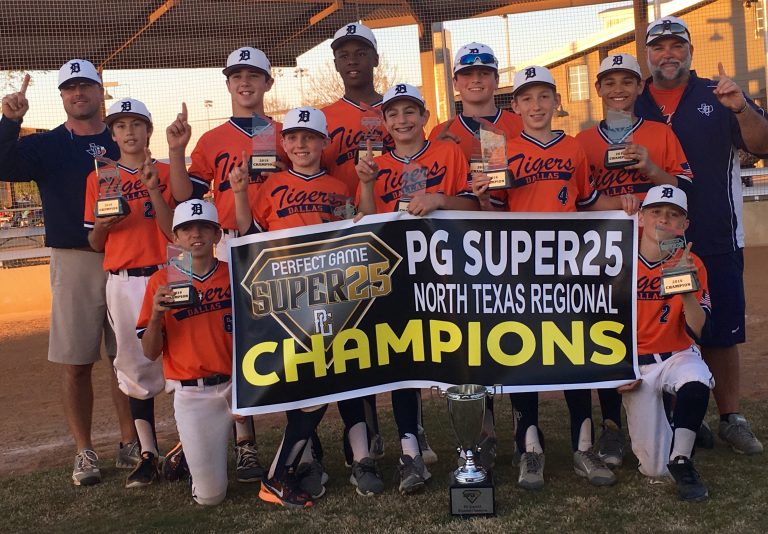 Perfect Game Super25 here we come!  The 12U Dallas Tigers will be headed to Ft Myers, Florida in June to compete in the Super25 tournament put on by Perfect Game.  By winning the PG Super 25 North Texas Regional, they get an automatic bid to the national baseball tournament.
Coach Chad Polk commented, "Our kids are super stoked.  They see all the Tiger high school teams going to PG tourneys in Ft Myers and us going now gives them that sense of pride."
Jayson Jones was named tournament MVP by the umpires.  Way to go Jay!  In their last 9 games, the team has given up 1 run.
"The pitching performances we are getting have been great this early in the season.  But more importantly, our defense is making the plays they are supposed to make, guys are in the right spots after balls are hit, and we have plenty of athletes to make some spectacular plays too.  This group takes pride in their defense and pitching and it shows in the games."
Enjoy the beach boys and go win a big one!
For more information on Perfect Game Super25 you can visit http://www.perfectgame.org/perfectgamesuper25/