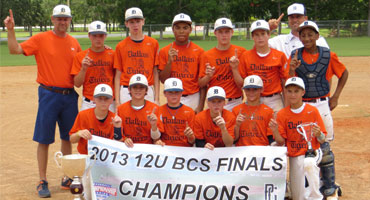 The 12U Dallas Tigers took home the Perfect Game BCS National Championship this weekend in Ft Myers, FL.  There were some tough battles throughout the tournament with Ringgold Georgia, Banditos, Team Mizuno, and SIII Hustlers.  In the end, the little things were the difference to win the finals.
"Our kids worked hard all year on the little things of baseball: bunting, baserunning, quality pitches in right counts, and defensive execution," commented coach Polk.  "All the crucial games we played were won by one or more of those weapons.  But I also want to make special mention of two outstanding pitching performances from Garrett Reuben and Jaden Woodson.  What those young men did on the mound this week was just incredible to watch.  Proud for them."
This group of boys has been in national championship final games each of the last 3 years (AABC, Super Series, and Triple Crown), but this time they were able to come away with a victory.  Nice work boys!  First of many to come.
For the full story on PerfectGame.org visit http://www.perfectgame.org/Articles/View.aspx?article=8823
Some interesting stats on this teams season:
14 Tournaments played, 7 championships, including winning 2 of 3 vs. 13u

64-10-1 overall record

Played 59 different opponents, from 14 states and Puerto Rico

Longest losing streak was one game, lost and tied on first day of season to 13u teams, went 64-9 after that day, never lost to any team twice

Had 8 pitchers throw more than 20 innings, with a team era of 2.23

Team fielding % of .937, made 1.4 errors per game with a pretty non-lenient scoring philosophy

Belted 77 homeruns in 75 games, with a .404 batting average

Scored 9.7 runs a game