The 12U Woods team took their fifth tournament title of the season capping off a 3-0 Sunday for the USSSA State title and a Father's Day Championship to match their Mother's Day title back in May. The bats came alive on Sunday after a dormant Saturday of pool play, along with key pitching. JJ Montenegro again hurled a complete game gem going the distance while giving up 3 hits, 1 walk, and setting down 10 Patriots on K's in the Sunday opener, winning 5-2. Next were the DBAT-Merle Mustangs, the tournament #1 seed. Jake Whitbeck tossed three strong innings and through four innings the Tigers mounted a 12-3 lead, in part on seven Mustang errors. DBAT tried to make a late game comeback but the Tigers hammered out 12 hits. The Tigers hammered out 12 hits lead by Klayton Henderson (3 for 4) and Garrett Carter (2 for 4 with two doubles) to hang on for a tense 12-10 victory to get to the championship. The final was a rematch from Saturday's pool play against the Arlington Heat which in that game neither team could find their bats. Both teams only managed a hit apiece on Saturday with the Tigers on the short end of a 1-0 game. However, Sunday was a different story for Woods team. Before the Heat came to the plate in the bottom of the second, the Tigers went up 6-0 with as many hits including a dinger by Jordan Blackmon, his fifth of the season. They would finish the game with 11 hits. After a leadoff single in the first by the Heat, Lance Russell then picked that runner off first followed by retiring every batter in order until the fifth en route to a complete game on 4 hits, 4 K's, no walks and a 9-1 championship win! On defense, Parker Kelly flashed some ESPN highlight plays at shortstop all weekend to shut down several opponent rallies.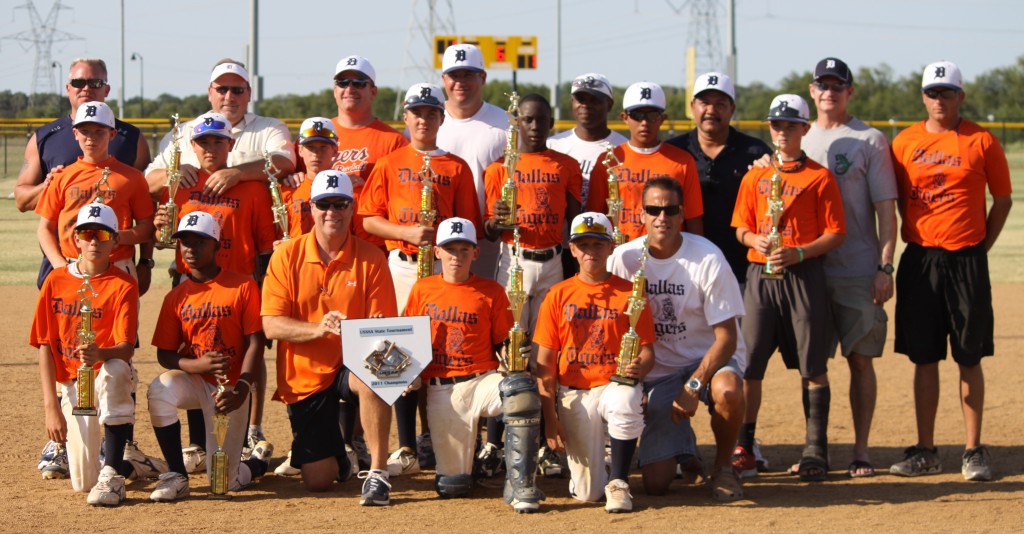 Congratulations Tigers!!!
It was a great Father's Day gift as the Tigers prepare for the upcoming Super Series National Tournament in Burleson next week followed by the NABF Classic World Series in Southaven Mississippi the week after that.