Scott Reed's 90-6.5 Strength Training Program – November 2 – January 21
This is a 12-week progressive strength training program that builds each week.
As you WORK you MOVE closer to the PLAYER you want to BECOME!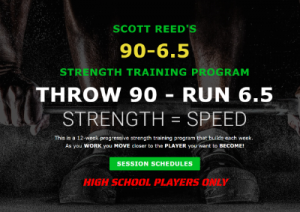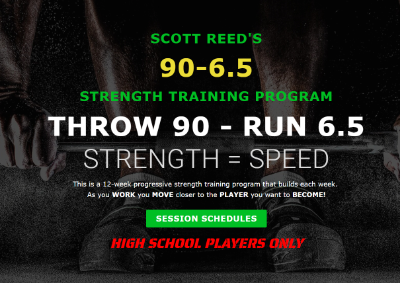 More Information Below!!
Information and Registration Click Here
This program is based on lift metrics for YOU to attain, then maintain, in order to throw 90 mph, run 6.5 60-yard dash, and improve overall power at the plate. This is the most attainable, progressive, simple strength training program specific to baseball players that strive to hit these quantifiable metrics.
Getting to Know Scott Reed!
Scott has been training clients for over 10 years. In that time I have had all types of clients ranging from: 1st Round MLB draft pick, NFL & CFL Football players, D1 football/basketball/baseball/volleyball, as well as general public fitness training/weight loss/strength training/rehab training of all ages groups. He has recently trained Trevor Story, Bobby Witt Jr., and Jonathan Lucroy to name a few.