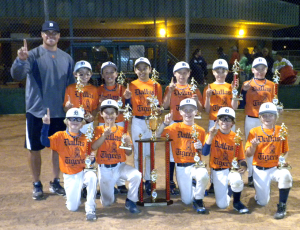 Congratulations to our 9U Dallas Tigers Polk for a great season!  In their first year with coach Coy Polk they pulled together a talented group of boys.  For the year this team was 62-5 (.911 winning percentage) and finished ranked #1 in the country by USSSA Baseball Rankings.
In the season finale at the USSSA Elite 32 World Series in Orlando, the team took 5th place.  Among the top 32 teams in the country the 9U Tigers were #1 in runs scored per game with 9.8 and #2 in run differential.
Coach Polk had this to say, "We had an incredible amount of player development happen with this team during the season and that is what it is all about at this age.  When players work that hard and parents are committed, it makes the development process very exciting to watch.  You can look at our record and be impressed, BUT it was not our goal to win games; we focused on executing in every phase of the game and we'd be in a postion to compete in every game we played.  I think we did that this season.  Just really proud for these boys."
We look forward to seeing this team compete in the upcoming season as 10-year-olds.  Nice job Tigers 9U Polk.   For tryout information click here.
For a complete list of the USSSA Rankings go to: http://www.usssa.com/sports/Rank2.asp?State=0&ClassID=61&SeasonID=16&RankSystem=0