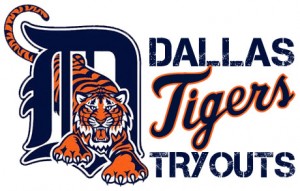 The Dallas Tigers are forming a new 9U Dallas Tigers Team coached by Wayne Tyrone. He
will be holding the following tryout:
Date: November 17 & 18
Where: Tiger Field, Coppell Middle School West, 1301 Wrangler Dr., Coppell, TX 75019
Time: 12:00pm – 2:00pm
Check in and Warm Up 20 Minutes Prior

Coach Wayne Tyrone has played in the Major Leagues for the Chicago Cubs and at the
AAA level with the Montreal Expos and the Baltimore Orioles. He has coached at various
youth levels for more than 20 years and is currently a hitting instructor at APE Baseball in
Grapevine, TX.
IMPORTANT: If you are interested in joining the club and this team please send the below
information to dallastigers@rocketmail.com:
EMAIL SUBJECT: Age Group – Name – Tiger Tryouts (Ex: 9U Tyrone – Johnny Smith –
Tiger Tryouts)
Player Name
Player Birthdate
Throws/Hits (R/L)
Positions played
Comments
Father & Mothers names
Home Address
Email
Phone(s)
Please wear typical baseball practice uniform (pants, cleats, practice jersey, hat). You
will need to have all your own equipment (bat, glove, catching gear, etc). Bring any
water or fluids you may need. Arrive 20 minutes early to check-in and warm up.
The team will be participating during the spring/summer and will play in approximately 10 –
12 Tournaments during the spring season. Coach Tyrone is looking for dedicated players and
families to fill out the team.