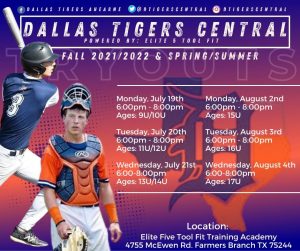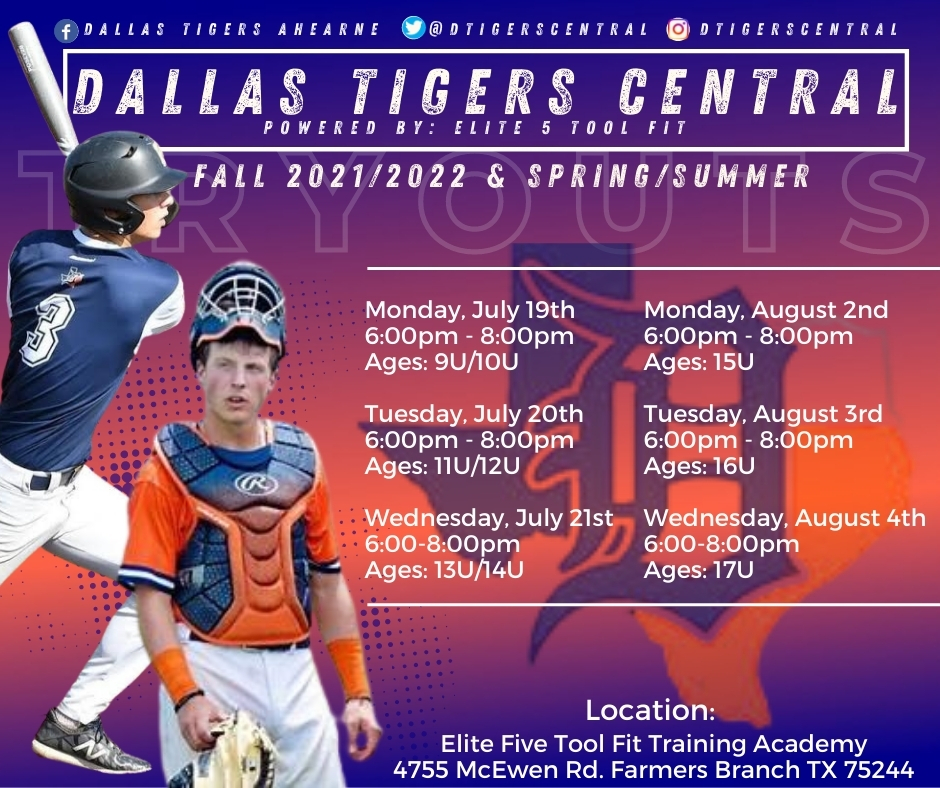 **Fall 2021 & 2022 Spring/Summer Dallas Tiger Tryouts – CENTRAL **
Tigers Central Tryout Registration Link
The Dallas Tigers Central will be hosting tryouts late July & early August. All of our teams are professionally coached and focus entirely on player development. Our youth teams play in top competitive DFW tournaments and powered by our Five Tool Fit program. Our 15U,16U, and 17U teams this past season were very well attended by Power Five conference schools, Mid-Major conferences, DII, and JUCOs.
https://www.facebook.com/dallastigerscentral/
All interested players must REGISTER BELOW….
Tigers Central Tryout Registration Link
Dates:
Monday July 19th – 6-8pm – Ages 9u, 10u
Tuesday July 20th  – 6-8pm – Ages 11u, 12u
Wednesday July 21st – 6-8pm – Ages 13u, 14u
Monday August 2nd – 6-8pm – Ages 15u
Tuesday August 3rd – 6-8pm – Ages 16u
Wednesday August 4th – 6-8pm – Ages 17u
*note – if you are unable to attend any of these dates please submit tryout registration form below and request private tryout at the bottom of page.
Location: Elite Five Tool Fit Training Academy – 4755 McEwen Rd. Farmers Branch TX 75244
Format: One day open tryout with skill evaluations
To register for this tryout please click on google form link below:
Tigers Central Tryout Registration Link
NOTE: players will need to be dressed in baseball game attire (i.e. baseball pants, cleats, hat, batting helmet, etc).  Bring baseball equipment.  Arrive 30 minutes prior to your age group time slot for check in. 
Dallas Tigers Central –
Powered by Elite Five Tool Fit