13U Coach Matt Santos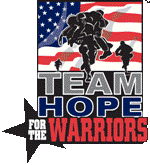 will be running in the NYC Marathon this year, November 7, 2010 on Team Hope for the Warriors.
Centerfield Baseball & Softball Academy  and the Dallas Tigers Baseball Club are proud sponsors of Mr. Santos and will be represented on his jersey during the race.
Please add your support and help him reach his goal by clicking here.