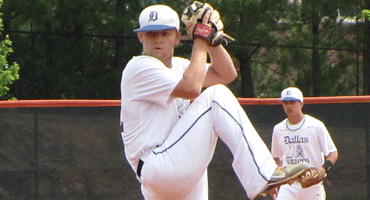 WOODSTOCK, Ga. – The Dallas Tigers 16u Vanlandingham's bats were scorching hot on Friday afternoon, victimizing the Tennessee Fury pitching to the tune of a 16-0 whipping at Etowah High School. The game ended after only three innings due to the run-rule in place at the 2012 16u Perfect Game-East Cobb Invitational.
The win moved the Tigers 16u Vanlandingham to 3-0 in pool play and moved them into Saturday's 16-team playoffs as the No. 5 seed.
Even though the Dallas Tigers Hernandez squad skipper and his players had yet to play a game Friday afternoon, Tommy Hernandez was in attendance, which would not come as a total surprise to those around the organization.
"Unlike other organizations throughout the country, I'm a hands-on president of the club," explained the club founder and president after the Tigers 16u Vanlandingham's Pool C rout. "I like to make my rounds because I've got to keep up with all of the kids and make sure that they're progressing like we want them to in order for me to help them in the recruiting process. I've got to be able to sell my kids to the colleges. That's here at Lynn [Vanlandingham's] game and why I went to David Upchurch's game yesterday.
"I also coach the 11u team. I practice with all of the teams in the club. I love doing it, and I think I'm lucky to be doing this for a living."
A former college player himself at Lubbock Christian University and Texas Tech in the 1980s, Hernandez said he began working with younger players after a brief minor league career with the Texas Rangers in the early 1990s. In 1993 he made the decision to form an 11u team.
"With the success of that team, it created opportunities for me to develop other kids so we started younger age groups," said Hernandez, adding that one of the '93 team members, Michael Hollimon is still active and playing professional ball in the Minnesota Twins farm system.
The club now has over 15 teams, ranging from ages 8 to 18.
Even in the past seven years, the organization has grown.
"What happened was we started with a lot of kids coming out to tryouts, so much so that we had to make a decision between either turning away good players or starting new teams," said Tigers 16u Vanlandingham manager Lynn Vanlandingham, Hernandez's former teammate at Texas Tech.
The organization chose the latter option, forming Dallas Tigers Hernandez around 2005, Dallas Tigers 16u Vanlandingham in 2010 and Dallas Tigers Upchurch that same year. In this tournament alone, all three 16u teams are present.
"All three teams are extremely talented, and we're very fortunate in this age group," said Vanlandingham, who is in his fourth year with the Tigers.
Drawing mainly from the wide breadth of the Dallas-Fort Worth Metroplex in Texas, the program has its share of talent, as evidenced by the four sophomores on the Tigers 16u Vanlandingham roster who were invited to the 2012 Area Codes Games. Michael Kopech, who Hernandez said was clocked in the low 90s on Thursday against the East Cobb Pride, earned an invite along with Turner Larkins, Noah Lee and Riley Greenlee.
"The majority of this team played varsity baseball at a high level as sophomores, some of them even as freshmen," Vanlandingham said. "The majority of them are from 5A schools in Texas, a very competitive level."
Of the 15 players on his roster, Vanlandingham opined that all would get a shot to play college ball, and estimated with more than 50 percent would eventually land Division I scholarships.
"This program has given the kids a lot of opportunities to experience baseball in college and beyond," Vanlandingham said. "There's a tremendous amount of focus on development. That's the thing that makes our club a little unique. We start the development at a very young age and stick with it."
"Unlike most organizations that focus on winning at all costs, we focus on instructing at all costs," Hernandez added. "We love to win, we're going to win, we win a bunch, but that's not our number one goal. Our number one goal is to get our kids in front of as many scouts as we can, and to give them an opportunity to play college baseball. And if they're fortunate enough to get drafted and play pro ball, that's just a bonus.
In spite of the success that the organization has experienced over the years, Hernandez maintains that it is the coaches and the parents that deserve credit.
"They're passionate about what they do," Hernandez said of the organization's coaching staff. "They love kids and teaching. They know that what we do is a process. If we can teach the players to do things right at an early age, then they're going to be prospects when they get older."
Hernandez said this goes beyond teaching baseball skills.
"We also talk about attitude and teamwork," Hernandez said. "Everybody shags foul balls. We don't care who you are. You got your part on the team, and you're going to do what everyone else does."
Check out the article at Perfect Game website.