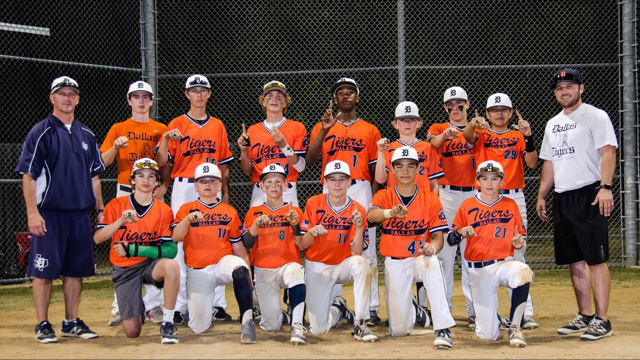 Trevor Duck started the day by throwing a complete game shutout against the Academy Select Sundevils. Jacob Holder came through with a 2 out, 2 run Triple in the 4th to secure the win 2-0.
Brooks Gay followed up with a gem of his own. Gay struck out 6 and did not allow a run in the 2-0 win. Adian Kuni's RBI Double in the 1st was all the scoring the Tigers would need.
In game 3, the Tigers jumped out to a 5-1 lead in the 1st on a Cole Bedwell Triple, Chase Wohnoutka Double, and RBI from Teague Rehwald.  Adrian Najar earned the win on the mound.
The Championship Game was an all Dallas Tigers affair. Tigers Holder beat Tigers Sanchez 9-4. Brady Miller's RBI Single followed by Ward McCollum's RBI Double in the 2nd, gave the Tigers Holder the lead for good. Jacob Byrd lead the Tigers with 2 hits and closed out the game on the hill.
Coach Holder said, "This is a special group! Every game somebody different steps up. I am extremely proud of these young men!"
Coach Elliot added, "We are really hard to beat when we play like this! Great pitching, great defense, and kids stepping up in big moments at the plate. Solid execution all weekend!"
Congratulations on a great weekend of Baseball!