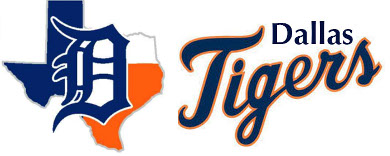 ANNOUNCEMENT: Formerly known as 'DALLAS TIGERS MILLER' 12U Majors / has appointed a new Head Coach!
Introducing Anthony Pearson!
Anthony was the assistant coach of Dallas Tigers Miller during the 2019 Spring and Fall seasons. The Tiger's 2019 Fall record was 12-5-1 and 2019 Spring record was 39-13. The Tigers were qualifiers for the Elite 32 Tourney in Florida, 2019 Travel Sports Baseball 11U Div 1 Champions (Spring and Fall). Going into this Spring season we are looking to add two players that can contribute to the success of this team. The players we add must be able to play multiple positions. Ideally looking for either two big bats, two power arms OR one of each.
Anthony's baseball background:
1st Team All SWAC and Pitcher of the Year (Soph)
2nd Team All SWAC (Jr)
5th Round Pick – Montreal Expos (Washington Nationals)
Top 25 Pitching Prospect
Washington Nationals Minor League Pitcher of Month
Carolina League Pitcher of the Week
For more information and a private tryout – please contact:
JD Laughery 214-202-6787 or
Anthony Pearson 214-454-5634