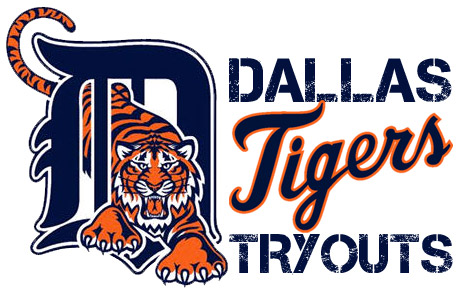 Dallas Tigers Baseball Club Tryouts
Dates: August 13th & 14th 2011
Location: Coppell High School, Freshman baseball field
185 West Parkway Blvd
Coppell, TX  75019
Field is west of Football Stadium.  Follow parking lot around north end of football stadium.
Format: Day 1 throw, run, hit – Day 2 Invitation Only
Instructors: Listed on left column of homepage
August 14 (Invitation Only) – Coppell High School Freshman baseball field
8-9u                      9:00-10:30am
10-11u                  11:00-12:30pm
12-13u                  1:00-2:30pm
14-15u                  3:00-4:30pm
16-18u                  5:00-6:30pm
* * * Please email your players information to play@dallastigersbaseball.com
Email Subject: Age Group – Player Name (Ex: 12U – Johnny Baseball)
Player Name
Player Birthdate
Throws/Hits (R/L)
Positions played
Previous teams if any
Comments
Father & Mothers names
Home Address
Email
Phone(s)
Due to overwhelming responses via email we will not be able to respond. Most of your questions will be answered at tryouts as the parents are addressed in every age group session. We are grateful for your interest and look forward to seeing everyone at tryouts.