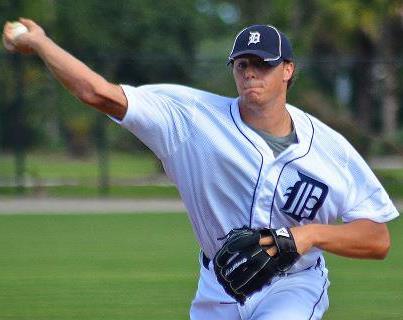 Jake Thompson, former Tiger from Rockwall, Texas, is ranked the Tigers' No. 3 prospect by fangraphs.com and pitched in Minneapolis, MN this week at the MLB All-Star Futures game. Check out the story …
MINNEAPOLIS — Tigers outfield prospect Steven Moya has heard all about Jake Thompson, Detroit's highly touted right-handed pitching prospect.
He's read about Thompson's pinpoint fastball, and he's heard stories about his deceiving slider. But Moya never had the chance to face the 20-year-old Thompson. Until Sunday.
It didn't take long for the 6-foot-7, 240 pound Moya to witness firsthand what the hoopla surrounding Thompson, the Tigers' second-round pick in 2012, was all about.
Thompson needed just three pitches to dispose of Moya in the sixth inning, capped by an 83 mph slider for a called third strike in Sunday's All-Star Futures Game, an annual showcase featuring baseball's best minor leaguers.
"I had heard that he had been doing really good in the Florida State League," Moya said. "But I never expected him to be that good."
In all, Thompson needed just eight pitches to strike out the only two batters he faced in the United State's 3-2 win over the World at Target Field in Minneapolis. It extended a five-game winning streak for the U.S.