The National Pitcher of the Year Watch List has been published by the National College Baseball Hall of Fame and one of our Dallas Tiger Alumni made the short list of 46. Right handed pitcher (RHP) Jett Meenach (So., Flower Mound, Texas) were amongst 46 players named to this elite list.
Jett Meenach has recorded a 7-0 mark and 1.08 ERA over 41.2 innings out of the bullpen. He has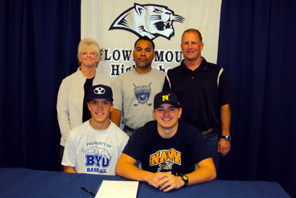 appeared in a Patriot League-high 21 games and has struck out 41 batters over his time on the mound. Nationally, his seven wins rank 24th overall and should he have reached the minimum qualification for innings pitched his 1.08 ERA would slot within the top-10 nationally. Meenach is 8.1 innings shy of the one inning per game played prerequisite.
Proud of our Tiger Alumni!! Good luck Jett!
Read the full article at NavySports.com.