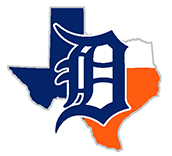 DALLAS, TX – July 22, 2020 – The Dallas Tigers Baseball Club has announced the addition of the newly formed Dallas Tigers Northeast that will be directed by former MLB hitting coach Ronnie Ortegon and longtime select coach and founder of the Dallas Redhawks Baseball Club, Ernie Cecil.
The merger brings a wealth of knowledge and experience of all levels of baseball from 8U thru high school, college and professional levels combined with the 27 plus years of Dallas Tigers player development, which has been one of the top models in club baseball nationally.  With the ultimate goal of developing winning players on and off the field, it will provide players from the Northeast Dallas area of the metroplex an opportunity to improve their physical, mental, physiological and emotional skills at two different locations. It will also offer players an opportunity to join the Dallas Tigers family and learn in a culture that has produced a number of major league players, as well as countless players who continued to play at the collegiate level.
"The Dallas Tigers are so very excited to have the Cecil family back with us. Ernie and Terrie's son, Tripp, played on my sons' Tiger team. The family's baseball knowledge, experience and administration skills are outstanding," said Tommy Hernandez, president of the Dallas Tigers. "Likewise, Ronnie Ortegon has always been family. He is our youngest son's godfather and was with us in 1993 when the Dallas Tigers were established. Ronnie wrote the book on hitting, The Hitter's Discipline, helping players with both their swing mechanics and the mental side of hitting. Ronnie's knowledge is second to none and I am looking forward to Ronnie sharing his wisdom with all our Dallas Tiger players."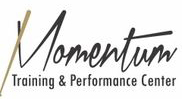 Momentum Training and Performance, located in Wylie, has been the home to the Dallas Redhawks since 2010 and offers a facility with all the amenities to enhance player development. It provides indoor cages and weight training area, outdoor turf infield, outdoor cages and bullpens and a 50 yard turf area for speed and agility.  Learn more at MomentumTrainingandPerformance.com.


Newly formed SFT Athletics in Plano offers indoor cages, analytic equipment, bullpens, full weight room, plyo wall, putting and chipping area as well as analytic golf bays and a golf simulator.  Learn more at SFTAthletics.com.
Ernie Cecil graduated from WT White in Dallas, leading the district in hitting his senior year. He continued his career at Paris JC went on to play at Lamar University where he was the starting second baseman on a regional playoff team. After his playing days and a couple tours in the Air Force, Ernie returned to Dallas and started his coaching career with several club teams including the Dallas Tigers. He brings 20 years of extensive experience in both instructing and building winning teams. He has been a huge part in numerous players' development and placement at the college level. He currently owns Momentum Training and Performance in Wylie, TX.
Ronnie Ortegon played collegiately at Lubbock Christian University and Grand Canyon University. After two years of minor league baseball with the then California Angels, he graduated from Dallas Baptist University and began his coaching career at Forney High School. He coached the Jackrabbits for 8 years before moving on to the professional ranks and coached in the Phillies, Rangers, Braves, Blue Jays and Cincinnati Reds organizations reaching the major league level in 2013.
UPCOMING TRYOUTS
Monday July 27
6:00-8:00 : Open to all ages
Garland Christian Academy
Sunday August 2nd
1:00-4:00 : Open to all ages
Garland Christian Academy
Sunday August 9th
1:00-4:00 : Open to all ages
Garland Christian Academy
Saturday August 15th
10/11u : 12:00-2:30
12/13u : 3:00-5:30
SFT Athletics Facility
Sunday August 16th
1:00-4:00 : Open to all ages
Garland Christian Academy
Sunday August 16th
16u : 1:00-3:30
SFT Athletics Facility