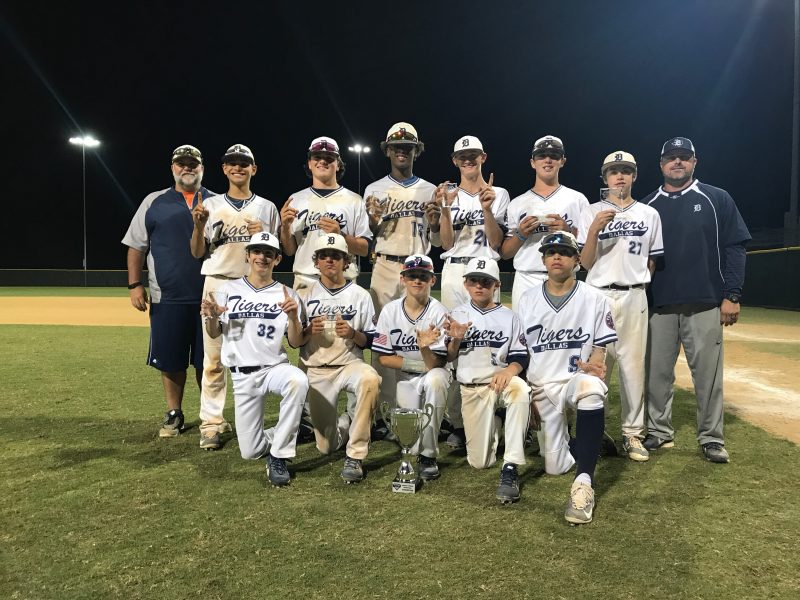 The 13U Dallas Tigers Polk rolled this weekend on the mound and at the plate as they won the Perfect Game Super25 North Texas Regional Qualifier.  The team went 5-0 on the weekend scoring a total of 58 runs.
"We saw good arms on Sunday …game one had a right hander out of Tulsa, then a very good lefty out of Arkansas in game 2, and then in championship game BN Phenom always rolls out polished arms.  So overall our hitters faced good velocity and guys that can throw a few different pitches for strikes," commented coach Chad Polk.  "Also, in a lot of cases we had hitters in 2 strike counts make productive outs either advancing runners, sac fly, or just 7+ pitch at bats.  Our guys show to be progressing."
Dallas Tiger pitching on Sunday was solid striking out 19 batters and only 4 walks on the day.  Allowing only 2 earned runs on championship Sunday, the pitchers total ERA was 0.667.
Coach Polk commented about the pitching, "We saw our guys absolutely fill up the strike zone.  Not only that, but they are getting better each time out at managing the game.  Seeing them grow into better baseball players on the mound is what we love to see."
The team will be playing in the Perfect Game Super25 World Series Invitational at LakePoint in Atlanta, GA this June.
Good work boys!