Dallas Tiger Baseball Club is proud to honor several of our alums in their current college careers.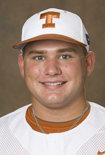 Former 7 year Dallas Tiger, Cole Green of Coppell, Texas – RHP at University of Texas, was named Big 12 Conference Pitcher of the Year and 1st Team All-American by NCAA Baseball.  Check UT Bio here.W L ERA IP H BB K10 1 2.64 99.6 77 23 66

Former 7 year Dallas Tiger and Tiger teammate of Cole Green, Jordan Swagerty of Sachse, Texas, is now the Arizona State University All-Time Single Season Saves Leader was named 3rd team All-American.  Full Bio click here.W L ERA IP H BB K
1 0 2.12 29.6 29 10 39

Former 5 year Tiger Justin Howard

of Ennis, TX

, University of New Mexico, lead all division 1 schools in hits (119) this season. WOW!! Justin was injured in Friday nights game against Minnesota in the regional on a collision at home plate. Hope all of us can say a huge Tiger prayer for Justin's speedy recovery.  Full Bio click here.
Austin Elkins, freshman Shortstop at Dallas Baptist University (DBU) and graduate Coppell High School was named Lousiville Slugger All-American section.
To see a full list click here.  www.baseballnews.com/allamericans/currentfrallamericans.htm