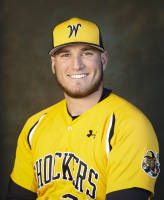 Tiger instructor and NTIS Team USA coach, Jon Coyne, joins the Wichita State University Shockers as the Volunteer Assistant.  Jon was a great asset to the Dallas Tigers, but we are flattered and proud that coaches from our organization are chosen to coach at a high level of college or MLB.
Congratulations Jon and we wish you great success!  Start recruiting some Tigers!!!
Click Jon Coyne to see his full bio.