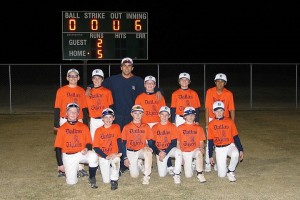 The Dallas Tigers 11u coached by Anthony Walsh Seeded 1st and went an impressive 5-0 in the Spring Fling 11u Open tournament March 27th – 28th in Celina Texas. The 11u Walsh Tigers started playing together January 15th 2010 and in 2.5 months under Coach Walsh were able to bring home the champions trophy in their first ever finals game. Congratulations Coach Walsh and Tiger players.
The weekend started out slow in the early game Saturday morning with the team falling behind 6-1 after 2 innings. The boys pulled it together and rallied back to win 10-7.  The boys moved on to the second game of the day and decided they would not fall behind again in the rest of the tournament winning the second game handily 17-1.  In the third game the boys jumped on top early and never looked back in their 12-4 victory.  In the fourth game of the tournament the boys faced a different team than the team they beat 17-1. It was a much tighter game but in the end the boys won 6-2 to advance to the Championship game.  In the Championship with the boys wearing their Championship orange jerseys playing under clear skies and a full moon, the boys jumped out to a 2-1 lead early and never looked back in their 5-2 win to bring home the championship and complete a perfect 5-0 for the weekend.  It was truly a team effort over the entire weekend with 8 of 11 players pitching and no one pitcher reaching their maximum pitching outs.
Congratulations to the Tigers 11u-Walsh team for their championship!  Continue to improve.