Tigers Dominate in USSSA Finals!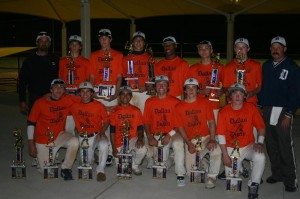 Congratulations to the 14U Dallas Tigers for winning the championship at Railroad Park in Lewisville, Texas this weekend!
Great pitching, defense and some timely hitting helped lead the Tigers 14u-Hernandez win this past weekends USSSA tournament at Railroad Park in Lewisville. The Tigers won 4 games on Sunday winning 5-0, 5-2, 4-3 and 16-0 in the championship game. Bryar Barnes came in relief to pitch out of a jam in game 3 and closed 2 of the 4 games. Foster Sawyer and Brandon Maine pitched complete game gems on Sunday. Barnes also lead the Tiger offense.
TIGERS 14U-VANLANDINGHAM/ TIGERS 11U-INGRAM/ TIGERS 9U-POLK GET TO SEMI-FINALS!
In Tulsa, Vanlandinghams 14u Tigers fell a short in extra innings. Our Tiger boys played well all weekend and really came together as a team in Oklahoma.
At Railroad Park, the Tigers 11u-Ingram team didn't have their "A" game in a semi-final slugfest being outscored 16-13.  Our kids battled back from a big deficit, but just couldn't catch up.
In Dallas, our Tigers 9u- Polk team was outlasted in the semi-finals. Polk's club came back to show alot of character to beat the Canes 7-4 on Sunday. The Canes beat us 19-0 on Saturday. Way to go boys!!
Go Tigers!