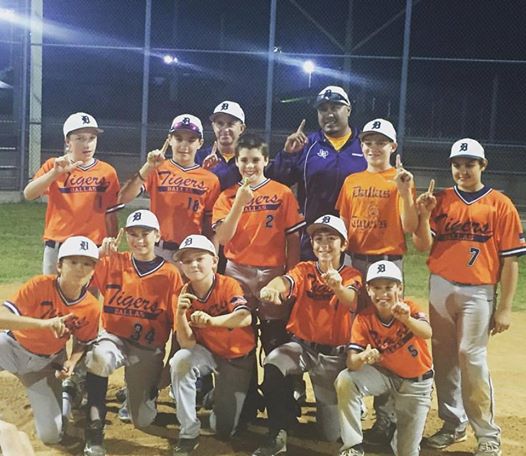 It took a total team effort to lead the Dallas Tigers Sanchez 12U team to their first tournament victory of the season in TNTs May Blast tournament 19 team field (5/14 – 5/15). Jackson Jones pitched 4 innings getting the win and holding Frisco Riders-Price to just 2 runs in the championship game with a lot of help from his defense. A bases loaded double play on a line-drive snagged by Ethan Elliott got him out of the first giving up only 1 run, and then a diving catch by Charlie Barker in center with the tying run on second and 2 outs in the 4th kept the Tigers in position for the win. Jones helped himself by knocking in the go-ahead run in the 3rd with an RBI triple. Oliver Overlin came in and threw 2 shutout innings for the save in the 3-2 victory. Overlin went the whole way on the mound in a gem in the Tigers' semifinal game.
Chistopher Courrege lead the way on offence over the weekend going a whopping 9 for 13 from the plate with 9 RBIs and 3 doubles. Jackson Jones took advantage of Courrege's offensive outburst and scored 10 times getting on base in front of him. Jones, Ethan Elliott, and Caden Thode all hit .500 or better for the tournament. Recent hard work in the cages showed as the team's bats really came alive this weekend with the team hitting a combined .469 on their way to going 5-0 in the tournament and scoring 48 runs.
Coach Matthew Sanchez takes his team on the road heading to Ruidoso, New Mexico over Memorial Day weekend. They will compete there in the annual USSSA King of the Mountain tournament.