By now, our older guys are gearing up to start their high school season while our younger guys should be getting started with pratices.  Scrimmages and first tournaments are just around the corner.  Good luck to everyone.
Our college guys are kicking off their seasons too, and I wanted to share this photo that a dad sent me today from Sunday's UT Alumni game.  Below are former Dallas Tigers Curtis Thigpen (currently with the Oakland As) catching while Jonathan Walsh is hitting.  Walsh is the third Tiger catcher that has played for UT in recent years (Thigpen-'01 Tigers, Preston Clark-'04 Tigers and Walsh-'09 Tigers).  For me, it is awesome to watch Tigers of all ages still playing together.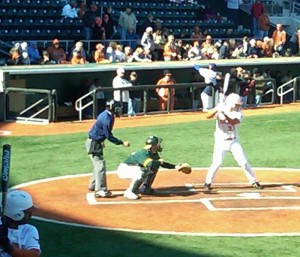 Other big news came from Tusla with Dennis Bigley (Tigers '01) was inducted into the Oral Roberts Hall of Fame this last weekend.  Dennis was drafted by the Blue Jays and played pro ball for several years.  His younger brother Evan is currently playing in the Twins organization.
That's news from our older guys, and now to our youngest guys. I want to welcome our newest Dallas Tigers team – our eight year olds!  Think back to when each of you older guys were 8, playing coach pitch and just starting your baseball careers.  Remember, these guys not only look up to you, but you set the standard for them to follow in your footsteps.  Tigers, keep making us proud!
And what about the girls?  I am also proud to announce that for the second year, we are welcoming the Dallas Tigers Softball Club-yes, girls! My neice, Sara Hernandez, is heading up the Tigers Softball Club.  Sara is a graduate of UT-El Paso and is a four year letterman in softball and a two-year soccer letterman.  We are excited and proud to have the girls join us.
But it's not all about baseball.  We are fortunate to be able to play select baseball and I expect every member of the Club to give back to our community.  Along those lines, we are participating in a new service project with the softball club. See the details below about the service project and please make an effort to participate.  Let's turn out to help our servicemen and women!
Sincerely,
Tommy Hernandez, President
Dallas Tigers Baseball Club